IPM, in cooperation with GLOBSEC and SAPIE, hosted an event on 30th November 2017 to address the opportunities, challenges and significance of the Danube Valley region with respect to innovation, entitled "The Danube Valley: From Manufacturers to Innovators" at the Crowne Plaza hotel in Bratislava, Slovakia.
While the Danube Valley region has had a strong history of manufacturing and engineering successes, in more recent times it has been affected by a 'brain drain', with some of those having the best ideas and innovative talents establishing themselves in more traditional technology ecosystems such as in Silicon Valley, the UK, and Singapore. The event's organisers believe that this could be addressed with the creation of a Danube Valley Innovation Cluster, an initiative to connect existing innovation leaders with corporate partners, policy makers and society builders, to promote a better and more diverse environment for innovation to grow in the region.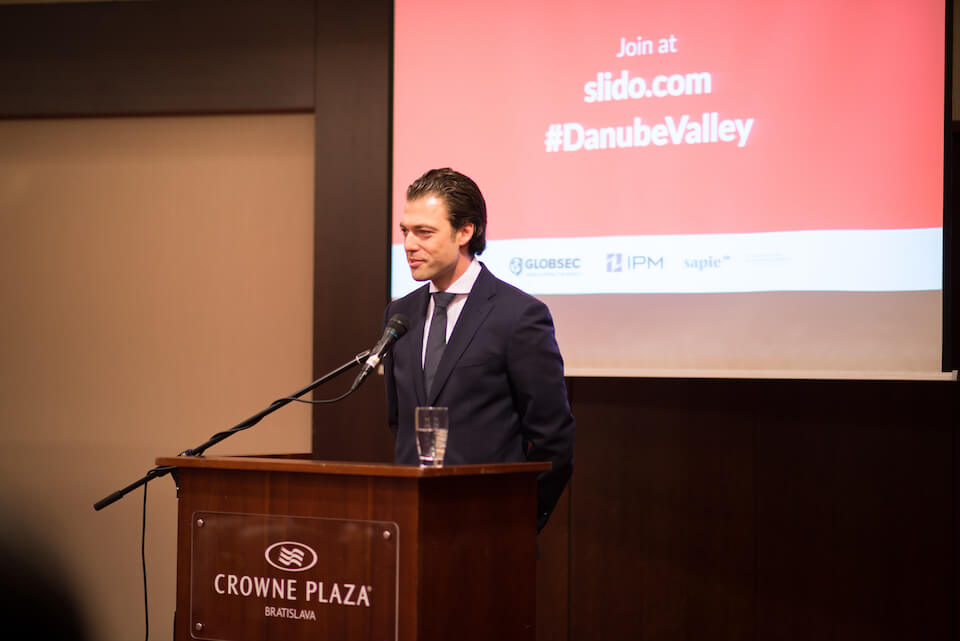 The event was attended by distinguished delegates, which included leading innovators, business leaders, think tanks and NGO's from across the region, and featured two panel discussions: "The Future of Energy and Mobility" chaired by IPM Growth Partner, Marian Gazdik; and "Global Ambitions with Local Responsibility" chaired by Google Country Manager and SAPIE Chairman, Rastislav Kulich. The panelists included the founders of many of IPM Growth's portfolio companies (Igor Kocis- GA Drilling; Radoslav Danilak- Tachyum; David Lazovsky- ESS and Douglas MacAndrew- AeroMobil), as well as representatives from the Central & Eastern European investor and social enterprise community (Lenka Surotchak – PONTIS Foundation; Peter Gajdos – PRESIDIO Partners; Zoltan Varga – entrepreneur and philanthropist). The evening concluded with a dinner which connected key stakeholders from established and start-up businesses, investors, ecosystem leaders and community builders from the Czech Republic, Austria, Slovakia and Hungary in order to promote greater cooperation for the Danube Valley initiative.
Robert Vass, President of GLOBSEC, opened the event and Marian Bocek, IPM Co-founder and Managing Partner introduce the panel and gave the evening's closing remarks. Both notable speakers stressed the need for multilateral cooperation to support innovation, champion diversity and to promote social and corporate responsibility in the Danube Valley, in order to attract the best talent and ideas to establish themselves and flourish within the region.
The panel discussions addressed the importance of developing a private-led, public-supported partnership of ecosystem leaders with the ultimate goal of maximising innovation to help grow the region's technology related GDP in a socially responsible and sustainable manner. It was agreed by all participants that nurturing this kind of growth would not only stimulate broader economic development in the region, but also have a positive impact on social development and the education and employment opportunities available to future generations.
The event provided a platform for the promotion of some of the most innovative and ground-breaking solutions of recent years that can trace their origins to the Central & Eastern Europe, or that are already being developed here. IPM's portfolio companies which are all innovation leaders in the sectors of energy, transportation, IT and security, shared their insights and provided the event's delegates with a vision for the future of the Danube Valley Innovation Cluster, based on their real-world experiences and practical examples.
The dedication of IPM, GLOBSEC and SAPIE to cooperate in order to support the Danube Valley's innovation potential resonated among the event's delegates. IPM and GLOBSEC have previously collaborated on a number of successful projects, and this event marked the first time they have joined forces with SAPIE. Following the success of "The Danube Valley: From Manufacturers to Innovators", IPM, GLOBSEC and SAPIE are already discussing ideas for future fruitful cooperation, through which they each hope to continue to play a significant role in fostering innovation in the Danube Valley.